2017 STABILITY 66 DUAL MODE SWATH CAT MODEL

Stability Yachts introduces the Stability 66 SWATH DUAL MODE CAT Model, with an unparalleled level of comfort and stability coupled with wave piercing
Power Catamaran
hull performance. Our Dual mode SWATH cat design is a combination of military technology and luxury. You now have yacht design that opens up the potential for yacht ownership to 90% of the population who get seasick, according to the latest CDC estimates.
This is more than just another fancy power catamaran. It is a Dual Mode hybrid vessel that transforms from wave piercing catamaran to
SWATH Yacht
in a matter of minutes. The lower twin hulls submerge making the vessel as seaworthy as a much larger vessel. At this point since the lower twin hulls are now under water, waves can easily pass through the hull limiting side to side jarring and dangerous upward motion with.
On the other hand, if there are light seas, you can raise the hull to an 18-inch draft, somewhat unheard of in any pleasure power catamaran or mono hull designs. At the same time, the boat is very light weight needing only a small engine , making it truly fuel-efficient. Stability 66 can cruise at 8 mph getting 4.0 mpg or 20 mph getting 1.8 mpg. Want to go somewhere quicker? with our optional 300hp diesel electric motor tops around 30 mph. The efficiency and lightweight of this vessel will allow for future solar power add on option to the existing diesel electric powered configuration.
What's the use of having a luxury interior,

if the seas around you are rough? Stability 66 can please the demanding yachtsman and his seasick clients, friends and/or family. This 1000+ sq. ft. interior allows for one master Stateroom and it's huge bathroom, three staterooms with two communicating interchangeable bathrooms, a captain quarters and accommodation for up to 2 crew members and their shared crew bathroom. The spacious salon with 2 sofa sleepers can accommodate 4 more guest and wall-to-wall glass windows for a beautiful panorama. An adjacent fully equipped home like galley that has an enormous pantry and storage area and two full size fridge/freezer combos. The state-of-the-art helm station has good docking visibility. A 450 sq. ft. upper sun deck and fly bridge offer a perfect setting and ideal place to have the best sky bar for a one of a kind exceptional party.

---
Elevator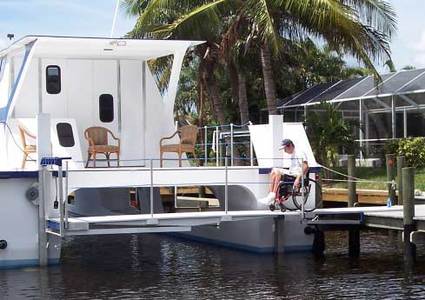 To enable everyone to meet sea challenges with dignity and ease, the designers placed a full width elevator at the stern. This elevator goes two feet below the water allowing a fully geared diver or the disabled to float on to it and be elevated to deck level in seconds. The docking is effortless by lowering the elevator to dock level. Loading supplies and boarding from other vessels also becomes effortless.
There are presently no other hybrid
SWATH
luxury type motor yachts offered anywhere in the world. This is the first ever with its hybrid hull form and modern styling. Unlike most new hull ideas this one is already built full size and can be visited in Southwest Florida offering prospective clients a walk-on experience. Also a significant styling effort was made to meet the expectation of the sophisticated yacht market clientele.
---
Every day activities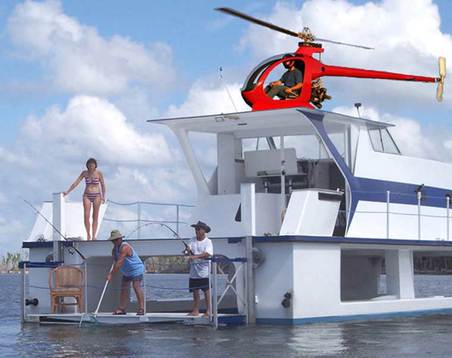 The Engineer unveiled the cutting edge capabilities of this hull design with the
Stability 60 Sport Model
and perfected it by skimming across the flats in South West Florida for more than 6 years, to give the new Stability 66 Dual Mode SWATH cat yacht top performance. Besides the stability it offers, you can take this yacht just about anywhere on the water. Imagine how this liberates you: you can be a lot more relaxed while operating the vessel since you don't have to worry about running aground if you stray slightly from a charted course or the channel. You can also ignore crab traps while cruising. There are no propellers to foul. You can beach the vessel and let your guests enjoy their own private resort. The design offers shade for your passengers in the water, whenever they want it."
---
Marco L. Capparelli, Stability Yachts Co-Founder and Designer has been focusing on using the lightest materials, like Carbon Fiber, Kevlar and Honeycomb panels to design Stability 66 interiors. Capparelli said "This is one of the most innovative dual mode SWATH Yacht designs ever, but very challenging to keep it lightweight and have a rich luxury feel at the same time." The Italian interior designer stated, " Stability 66 is well ready for green boat requirements of the 21st century. This Luxury Yacht will accommodate you and your guests 365 days a year and provide pure fun and joy, on any given sea around the world without any compromises."

Our motto is: Don't just own a Yacht. Rule the seas, but don't get sick!



---
Overall Length = 68' - 5"
Beam = 25' feet
Draft = 1' - 6"
Power = 2 x 250 hp Diesel
Generator = 30 Kw
Structure = Epoxy, E-glass
Fuel 250gl
Water 50gl
Options:
Power = 2 x 300 hp Diesel Electric
Fuel 320gl bring it up to 570gl total
Transoceanic collapsible fuel tankage
Water 250gl bring it up to 300gl total