Ride with the wind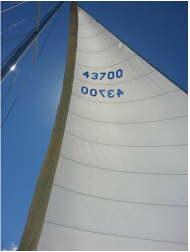 Introducing the first ever Hybrid Sail SWATH for the pleasure boats industry.
The key design issue addressed with the Stability 60 Sail is, as the name suggests, stability. The designers set out to develop a boat that is stable in almost all conditions you are likely to encounter, and to be far more comfortable in less common, very rough conditions. It has all the characteristics of a SWATH but without the expensive connotations.
Stability 60 Sail can go almost anywhere and does so at a miserly 3 mpg at 8 knots and 1.8 miles per gallon at 20 knots with top speeds approaching 25 knots with two 100 Hp Engines but if you want to go from point A to point B and back with your sails, you can save up to 40 % in fuel costs.
When in quiet seas, the SWATH stability is not required, so the hulls can be raised out of the water with the push of a button, turning the boat into a Sailing catamaran. We've always been big fans of adaptable vehicles, and the ability to run in 2 feet deep water as well as offshore makes this boat unique -- the vessel changes its operating characteristics to accommodate your needs and the existing conditions! There are presently no other hybrid Sail
SWATH
type motor yachts offered anywhere in the world.
---